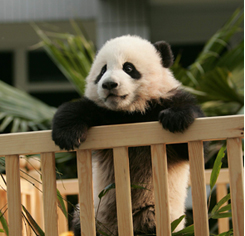 Chengdu Research Base of Giant Panda Breeding
In the days of 2017, Meilun of the Bailuizi family brought her sister Meihuan to their new home — the Base's Wildlife House 14. After they became used to their new surroundings, we discovered that Meilun and Meihuan were quite different.
We can often see the two sisters occupying the same spots, but their postures are strikingly similar. After the two sisters got over being shy, we finally saw a livelier pair.
(Meihuan above, Meilun below)
Meihuan: Aww, Meilun, you're in my way.
Meilun: A great view from atop this tree, and I can make my sis climb higher.
Meilun: Sis, get up here quick. The sky is so blue.
Meilun: Yo, sis! Huany-huan! Check out my skills! Turn around and watch!
Meilun: Oh, My sis is bigger and doesn't have to listen to me. Dad, don't give Meihuan any apple, heh heh heh. Give it all to me.
Although it takes a lot of work every day, we will be patient and meticulous when caring for the two sisters so that they can roll around forever.